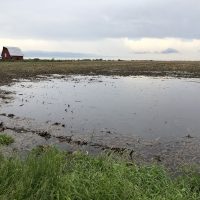 It has rained in Galesburg 21 days out of 28 this May, including the last 13 in a row.
The 5.43 inches of precipitation that has fallen so far, is already well above average and is just a little less than twice 2018's total rainfall for May.
More is expected as potentially severe storms could threaten Tuesday evening, and at least a chance of rain is in the forecast until next Monday.
Meanwhile, the Quad Cities has been dealing with their own effects of the rainfall, namely the Mississippi River's flood gauge at Rock Island reaching a record crest of 22 feet, 7 inches on May 2.
Forecasts predict that it will likely stay near major flood stages until at least early June, although it could be mid-July before the rivers recede below flood levels.
But the days of rain are likely not yet behind us.
The National Weather Service has Galesburg in a level 3 threat out of 5 for Tuesday evening, as large hail and potential winds exceeding 70 mph are possible in West Central Illinois.
The greatest threat is likely to come in between 6 p.m. and 5 a.m.
Galesburg sounded the outdoor weather sirens for the first this year on Monday.