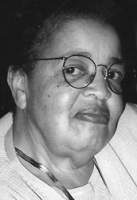 The District 205 School Board says that prior to their meeting on Monday, June 10, they will honor the late Joan Kelley, Galesburg's first African-American school board member.
205 Spokesperson, Amy Pickrel calls Kelley a "lifelong advocate for children", serving on the board from 1968 to 1977.
Kelley was born in Hopkinsville, Kentucky, but lived in Galesburg for 40 years, until she retired and moved to Virginia to be closer with family.
Kelley passed away in 2013, requesting memorials go towards the Gale Scholar's Program, a college accessibility program for first-generation students.
She held a Bachelor's Degree in music education, teaching across the southern United States, and holding a reputation as being a talented singer, pianist and clarinet player.
She then obtained a Master's Degree in Social Work, bringing her to Galesburg in 1963 to work for the Department of Children and Family Services.
Five years into her life in Galesburg, she was elected as Galesburg's first black school board member.
Her obituary calls Joan Kelly a "quiet and passionate civil rights activist and a relentless advocate for the well-being of children."