Galesburg Aldermen last night gave their ok to paying $100,000 to settle a legal judgment that they are not required to pay.
The U.S. District Court in Rock Island awarded city employee, Lisa Wilson, the judgment in a discrimination lawsuit back in February.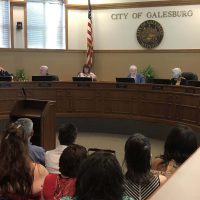 The city has long been dropped as a defendant in the case, that found former HR Director David Jones had been racially discriminatory against Wilson.
"While the judgment was legally levied against Jones the city has determined it's beneficial to step forward and pay the judgment in the proposed settlement agreement," Thompsons says.
Alderman Wayne Allen lightly scolded the media for suggesting the council had already voted on the payment in closed session, any questions and comments aldermen had been seemingly answered before last night's meeting.  WGIL clearly reported Friday that the the city paying the settlement was pending city council approval.
There was no comment from any council member before approving 7-0.
City Manager Todd Thompson had received some criticism for not handling Jones more proactively, and the council hired a law firm to do a review of city policies and procedures in April.
The firm's report should be given to the council when it's completed.