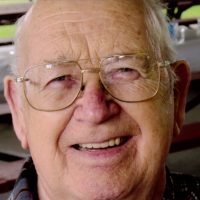 Mr. Harold L. Wensel, 87, of Galesburg, Illinois passed away at 1:20 am Sunday, July 7, 2019 at Galesburg Cottage Hospital.
Harold was born November 2, 1931, in Trenton, Missouri the son of Henry Harold and Hazel V. Moss Wensel. He married Carol A. Humphry on April 15, 1962, in Galesburg.
Harold is survived by his wife of 57 years, Carol of Galesburg; one brother, Frank Wensel of Illinois and two sisters, Wilma Pacheco and Virginia Davis both of Galesburg and several nieces and nephews. He is preceded in death by his parents and his brother, Jack.
Harold served in the US Air Force for four years.
He worked for Burlington Northern Santa Fe Railroad as a Carman mechanic for 32 years. He was a HAM and C.B. operator and enjoyed working on electronics at home.
Graveside services are scheduled for 11:00 am Wednesday, July 10, 2019, at Memorial Park Cemetery. Visitation will be 10:00-11:00 am Wednesday at Hinchliff-Pearson-West Funeral Directors and Cremation Services Galesburg Chapel. Memorials may be made to the Church of Christ or FISH Food Pantry. Online condolences may be made at www.h-p-w.com