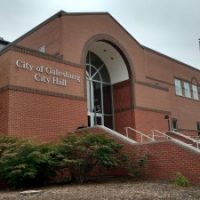 Attorneys for the City of Galesburg have responded to a federal lawsuit alleging among other things that city officers used excessive force while making an arrest.
37-year-old Steven Coleman filed suit in May saying four officers who entered an establishment he owned at 74 N. Chambers St., violated his 4th Amendment rights to be free from unreasonable searches and excessive force.
The property was not being run as a bar at the time of the alleged incident.
Surveillance video shows Coleman confronting Officer Alison Buccalo and Officers Jacob Thompson and Jared Tapscott, pushing Coleman into a pool table with Tapscott then deploying a taser.
The city's argument in response is centered around whether officers had knowledge or reasonable suspicion that Coleman had committed a crime or was about to.
Attorneys hired by the city also argued that the officers would have immunity under state and federal law even if Coleman could his allegations to be truthful.
Responding to the suit attorneys also deny that no evidence of criminal activity was found.
If that evidence can be presented Coleman's suit could have challenges.