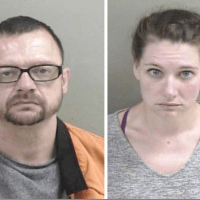 Knox County Sheriff's deputies seized around 1.5 pounds of ICE methamphetamine on Saturday in an investigation at the Galesburg Amtrak Depot.
The amount seized has a street value of approximately $70,000.
Knox County Sheriff's Department says they received a tip from Amtrak Police that they believed a passenger was transporting meth.
Knox County Detectives investigated the train at its' stop in Galesburg and made two arrests.
44-year-old Darylle Hart of Somerset, Pennsylvania and Sarah Browning of Hunnington, West Virginia are charged with meth trafficking 400-900 grams.
Knox County Assistant State's Attorney Sabrina Stroops says they were traveling from Los Angeles en route to Maryland.
That's a Class X felony which carries a minimum 24 years in prison under Illinois law, and a maximum of 100 years.
Both subjects are in the Knox County Jail awaiting a bond hearing Monday afternoon.