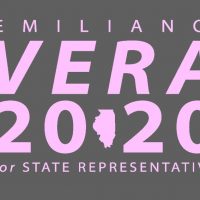 A 26-year-old Bushnell native in June has announced his candidacy for State Representative in Illinois' 93rd District. In his announcement video on his campaign, Emiliano Vera said it was a "no-brainer to come back" after college "and live in the community that raised" him.
"I've grown up in Western Illinois," Vera said. "I went to school here from Pre-K all the way through to graduation. I've worshipped in our churches, and I've volunteered to give back to the community through the FFA, Rotary, and other social service organizations." Vera, a Democrat, is the first openly gay candidate for State Representative in downstate Illinois.
Republican State Representative Norine Hammond has served in the House for the 93rd District since being appointed in 2010.
The Northwestern graduate also works for Bushnell-Prairie City School District #170.
Vera details his platform on his campaign website: from education and healthcare to workers' rights, green energy, and fair tax. The primary election in Illinois is March 17th, 2020. For more information, you can visit Vera's campaign website.