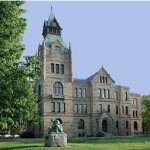 An East Galesburg Village Trustee is facing a felony charge of eavesdropping without consent related to a conversation he had with the village's mayor.
Darrell Corbin made his first appearance with counsel in Knox County Court on Aug. 7 on the Class 4 felony according to court records.
The police report of the incident says the charge stems from an incident on June 5 in the parking lot of the East Galesburg Village Hall, where Mayor Teri Peterson told police that Corbin was recording a private conversation between them without her permission.
Police observed Corbin sitting in the driver's seat of his vehicle, with his cell phone sitting sideways in the center console.
Police reports say the officer observed the phone was completely black except a white circle with a red square in the middle.
Peterson told the officer she did not want to be recorded and said Corbin did not advise he was recording.
Corbin was quoted by police as saying the act "was not" illegal because he was in his own vehicle, but did admit to police he was recording.
Corbin has hired Galesburg attorney Sherry Lawson-Weaver as private counsel.
Illinois is a "two-party consent" state, however, in 2014 the Illinois Supreme Court ruled the state's two-party eavesdropping statute ran afoul of the First Amendment and was on its face unconstitutional.
Corbin will return to court for a preliminary hearing on September 9.