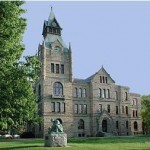 East Galesburg Village Trustee Darrell Corbin had his felony eavesdropping case dismissed in Knox County court on Monday.
Judge Scott Shiplett found no probable cause for the case to continue and dismissed it early in the proceedings.
The 63-year-old Corbin was accused of eavesdropping related to a conversation he recorded with Mayor Teri Peterson without her consent inside of his vehicle, in the Village Hall's parking lot.
While Illinois is a two-party consent state, meaning the law says both parties have to agree to be recorded, some revisions have passed in recent years.
Some changes were to say it's ok to record without someone's consent if there is no expectation of privacy and/or the recording device wasn't obviously hidden.
Lawson-Weaver argued there was no expectation of privacy since the conversation took place in a public parking place, according to a copy of her prepared argument she provided to WGIL.
Also, Corbin's phone that was recording was laying in plain sight on the center console.
She added that a valid defense for this crime would be that Corbin didn't disclose the recording, and there doesn't seem to be evidence that he shared the audio.
Judge Shiplett agreed with Lawson-Weaver and according to reporting from The Register-Mail said that "If Ms. Peterson called it in (to police) that she was being recorded, she must have known she was being recorded."
Prosecutors could still bring the case before a Grand Jury in the future.