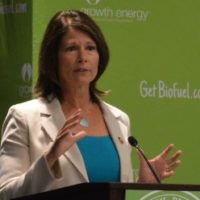 Congresswoman Cheri Bustos received the Fueling Growth Award from Growth Energy on Tuesday, September 10th. The award was in recognition of her efforts to champion the work of ethanol producers. There are three Growth Energy producer plants in Illinois' 17th Congressional District: Adkins Energy in Galena; Archer Daniels Midland in Peoria; and Big River Resources in Galva. In a statement, Bustos said, "As a member of the House Agriculture Committee, I'll always fight for our ethanol producers that do so much to support our agricultural economy. Time and again, the EPA and the White House have undermined the Renewable Fuel Standard by giving out waivers to big oil – causing billions of gallons of ethanol to be lost." Emily Skor, CEO of Growth Energy said Bustos "understands the seriousness of the challenges our industry is facing, but also the critical role biofuels play in communities across Illinois' 17th District in supporting jobs and cleaner fuel alternatives for drivers.
Also on Tuesday, September 10th, the Census Health Care Report released findings that the number of uninsured Americans increased by nearly 2 million in 2018, the first increase since the Affordable Care Act took full effect in 2014. Bustos stated that "the White House is suing to strike down the health care law and protections for the more than 5 million Illinoisans with pre-existing conditions. House Democrats have already passed 10 bills to lower the cost of health care and prescription drug prices."
Bustos also greeted veterans from Peoria's Honor Flight as they prepared to visit the Lincoln Memorial earlier this week. The veterans welcomed to the capital on Tuesday served in World War II, the Korean War and Vietnam. More than 70 veterans attended the trip. The Honor Flight Network is a non-profit organization committed to bringing veterans to our nation's capital. Veterans across the nation travel together according to region in order to have the opportunity to view memorials built in their honor. Senior veterans are given priority when planning visits and flights are fully paid for by donations from organizations and individuals. Bustos said. "Honor Flights arrange a special day for our veterans as they come to visit the memorials that recognize their service, and I'm humbled to have spent a portion of the day with them. I'm committed to honoring these brave veterans because, after all, we owe them gratitude for the freedoms we enjoy."
The next Land of Lincoln Honor Flight event will be in Schuyler county with the American Veterans Traveling Tribute Vietnam Veterans Memorial Wall. It is part of Smiles Day – Rushville's annual veterans and homecoming celebration September 19 through the 22nd. The 80% replica of the Vietnam Wall is 360 feet long and includes every name found on the permanent wall in Washington D.C. The next Honor Flight is Flight #58 on September 24th.