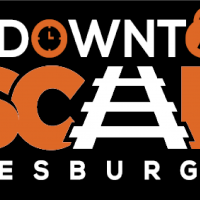 Galesburg's first escape room is on the way.
Word got out in the last week that Kate Bullis and Jon Misuraca are planning to open The Downtown Escape in the third floor of the Weinberg Arcade next month.
Escape rooms are group games in which players work together to solve puzzles, find clues and figure out how to…escape.
Bullis has a background in event and tourism management which lends its self to this new venture she's undertaking with her partner John Misuraca.
Drawing on her theater background, Bullis likes to think of escape rooms as like a "black box theater."
There's typically a story that lends itself to a group using critical thinking skills, and teamwork to get out.
While they come in a variety of types, she says The Downtown Escape will be geared toward families.
"We want everyone to be able to come and enjoy them, so we're going to make sure they're pretty family-friendly, but still pretty difficult," Bullis says.
Each theme is tied to Galesburg in some way.
Log City Cabin you get sent back in time and have to save Galesburg from an arch-nemesis, The Carnival is a nod to Ferris Wheel creator and Galesburg native, George Ferris and then a train-themed room is on the way for 2020.
There are several escape rooms in the Peoria and Quad Cities area, not to mention all over the country.
Bullis tells WGIL that in the corporate world escape rooms have replaced ropes courses as the hottest trend in team building.
"The nice part about it is escape rooms are a lot more accessible and less physically demanding so it really can be a more inclusive event when you're doing team building for employees and co-workers," Bullis says.
Participants will have 60 minutes after which is they don't escape staff will show you what you missed.
They're opening with a tournament on Halloween weekend, with discounts, prizes.
Bullis also owns KWB Paints on Main, which she bought in 2018.
She says that it's going well, saying she's now "feeling (her) groove."Click the link below to hear Will Stevenson's interview with Kate Bullis on The Downtown Escape that was aired on Galesburg's Evening News.