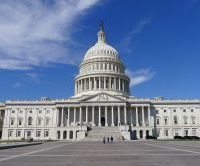 WASHINGTON (AP) –  4:10 p.m.   A State Department official has told Congress that U.S. military aid to Ukraine was withheld until the country's leader agreed to investigate a gas company tied to Joe Biden's family.
That's according to a copy of diplomat William Taylor's opening statement to House impeachment investigators Tuesday. The statement was obtained by The Washington Post and published online.
Taylor says Ambassador Gordon Sondland told him "everything" Ukraine wanted from the United States, including a visit with President Donald Trump and millions of dollars in security aid, was dependent on the country agreeing to investigate the gas firm Burisma and the 2016 U.S. election. Taylor said a White House official told him the same thing.
Democrats say the testimony points to what Trump has long denied: a quid pro quo for an investigation of his political rival.