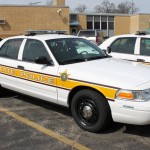 A 24-year-old man from Macomb sustained serious injuries in a single-vehicle crash Saturday afternoon.
Auston L. Wright was cited for driving under the influence of drugs and distracted driving along with some lesser driving offenses.
Wright was traveling north on U.S. Highway 67 just north of 105th Ave in Warren County, about half-way between Monmouth and Roseville.
State Police say Wright was distracted, using a cell phone and lost control of his 2018 Kia, hitting the guardrail.
The Kia went off the road and crashed into the ditch of the center median before coming to a rest.
Wright was transported to OSF Holy Family in Monmouth, where it was later determined he was under the influence of drugs and had a suspended driver's license.
He's expected to face aggravated DUI charges in Warren County court.