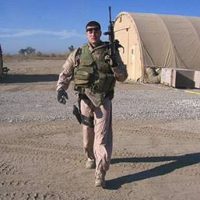 The Galesburg Post Office could be the latest local post office that could formally be re-named after an area member of the military who was killed in the line of duty.
Congresswoman Cheri Bustos — who has introduced a number of similar measures for other fallen military members during her time in office — says she has introduced legislation in the U.S. House to rename the Galesburg Post Office after Airman Daniel Miller.  Miller died in 2007 while attempting to defuse a car bomb in Iraq. Two others also died.
Miller graduated from ROWVA High School but prior to joining the Air Force, lived in a number of local communities including Galesburg.
In a news release from Bustos' office, Miller's brother Tim said he's "moved" to learn of the latest way to honor his brother, and that his brother "never hesitated to put the concerns of others before his own."
Most recently, the post office in Alpha was renamed after late Army Captain Joshua Steele. That officially took place back in August.