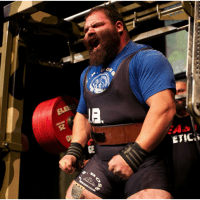 Superman lives in Henry County.
Galva native Daniel Bell has been powerlifting for about 6 years and says he's always been strong but over the weekend he broke the world powerlifting record.
Bell competed at American Barbell Club Open in Gainesville, Florida, and his combined lifts of 1,063 pounds on the squat, 573 pounds benched pressed and 881 pounds deadlifted was the highest total ever recorded in the sport.
Three times Bell has attempted to break 2,500 lbs.
Bell says through high school his football coaches would tell him that he didn't realize how strong he was.
"Being the typical 18-year-old, I went 'ok, thanks pal'," Bell says. "So about ten years later I was around 27 my buddies talked me into doing a competition. I did that and there were a couple of guys there already pros and they were like, 'kid, what are you doing? You're crazy strong. You just don't know what you're capable of."
About six years ago he competed in his first powerlifting competition, right off the bat lifting over 1,900 pounds making him 12th in the country.
Bell says at his roots he's still just a small-town farm boy.
Now that Bell is at the top of his sport he's still pretty connected to his roots.
"If you know anything about Galva we're just a little small farm town so I grew up working my whole life. Even if it did take care of me financially, I've been a mechanic going on 17 years, I think I'd still work. It's just in my genes, the midwestern farm boy."
He says typically he likes to stay calm and go through the motions in his head for the squat but says it's important to get emotions flowing for the deadlift.
HEAR MORE FROM DANIEL BELL TUESDAY AT 5:10PM DURING GALESBURG'S EVENING NEWS ON WGIL, WGIL.COM, AND WGIL ON THE TUNEIN RADIO APP.