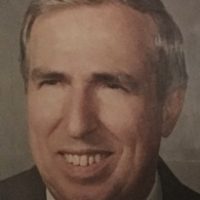 Dr. Edward S. Peterka, 89, died peacefully, at 12:08 p.m. Tuesday, November 26, 2019, at his home in Galesburg. Edward was born December 10, 1929, in Aurora, Minnesota, the son of John and Mary (Perna) Peterka. He married Jean M. Hendrickson on August 15, 1959, in The Holy Rosary Catholic Church, in Aurora, Minnesota. Edward is survived by his wife of 60 years, Jean of Galesburg; and five children, daughter Kathryn (Kurt) Hopfensperger of Cheyenne, Wyoming, daughter Karin (Steve) Loyola of Altadena, California, daughter Kristine (Bart) Miles of Woodland Hills, California, son Edward R. (Deborah) Peterka of Geneva, Illinois, and daughter Jeanmarie Anderson of Galesburg; along with eight grandchildren, Kristine, Karolyn, and Katie Hopfensperger, Luke and Matthew Miles, Zoe and Mia Peterka, and Janey Anderson. Edward is also survived by his sister Gabriella (John) Goritchan of Edina, Minnesota; his sister-in-law Dorothy Peterka of St. Cloud, Minnesota; and many nieces and nephews. Edward was preceded in death by his parents; his brothers Martin, John, Charles, and Philip; his sisters Mary, Ann, Christine, and Margaret; his son-in-law Glenn Anderson; and his many brothers-in-law and sisters-in-law. Edward graduated salutatorian from Aurora High School, in Aurora, Minnesota in 1947. After serving in the Korean War, Edward attended the University of Minnesota in Minneapolis, Minnesota and received a Bachelor of Arts Degree in 1955 in Interdepartmental Studies, with minors in philosophy, history, mathematics, physics, and abnormal psychology. He received a Bachelor of Science Degree in 1956, graduating Magna Cum Laude and Phi Beta Kappa. Edward attended medical school at the University of Minnesota, and he received his M.D. degree in 1961. From 1961 to 1962, he interned at Ancker General Hospital in St. Paul, Minnesota. He began his residency in dermatology in 1963 at the University of Minnesota, and he received a Master of Science in Dermatology degree from there in 1965, writing his thesis on Cutaneous Carbohydrate Studies. From 1965 to 1968, Edward worked as an assistant professor in dermatology at the University of Colorado Medical School in Denver, Colorado. In 1968 he moved his family to Galesburg and began a dermatology practice serving Galesburg and the surrounding areas. From 1970 to 1986, Edward also served as a part-time associate professor and head of the Department of Dermatology at the Peoria School of Medicine, in Peoria, Illinois. Edward also served as a part-time clinical associate professor teaching dermatology at the Abraham Lincoln School of Medicine at the University of Illinois at Chicago, in Chicago, Illinois. He was a member of the American Academy of Dermatology and the Chicago Dermatological Society and was a charter member and first president of the Illinois Dermatological Society. After practicing dermatology for over 40 years in Galesburg, Edward retired on December 15, 2011.
Edward was also an active member of the Galesburg Rotary Club since 1968, serving as president and then serving as district governor from 1996 to 1997, when he completed a medical clinic project in Nigeria. He received the International Rotary Service Above Self Award in 2009. He also volunteered on a medical mission to Peru with Rotary. Edward also served at various times as a Grand Knight in the Galesburg Knights of Columbus, as the president of the Prairie Council Boy Scouts, and as the president of the Knox County Medical Society. He was also a longtime member of Corpus Christi Catholic Church and the Immaculate Heart of Mary Catholic Church. Edward was also an avid golfer, traveler, and writer, having published numerous scientific articles, as well as books on a variety of topics. He also created a board game and several educational card games, and in retirement took singing lessons and taught himself to play the guitar. Edward gave generously of his time to always help others, especially those in need, and his tireless energy, sense of humor, and enthusiasm for life were an inspiration to all who knew and loved him. Most of all, he loved spending time with his family who will miss him dearly.
Visitation will be from 9 a.m. to 10:30 a.m., Saturday, December 14, 2019, at Hinchliff-Pearson-West Funeral Directors and Cremation Services Galesburg Chapel. Funeral Mass will be at 11 a.m. Saturday, December 14, 2019, at Immaculate Heart of Mary Catholic Church in Galesburg, with entombment to follow at St. Joseph's Cemetery in Galesburg. Repast to follow. Memorials may be made in Edward's memory to the Galesburg Rotary Foundation, Immaculate Heart of Mary Catholic Church, or Corpus Christi Catholic Church. Online condolences may be made at www.h-p-w.com.