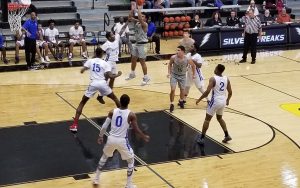 The Galesburg Silver Streaks boys basketball team improved to 3-0 on the season with a 64-31 victory over the Wells Raiders from the Chicago Public League Friday night at the GHS Thanksgiving Tournament.
Wells struck first, hitting a three-point basket.  Then, Galesburg rattled off 14 consecutive points to take a 14-3 lead.  Wells got no closer than eight for the rest of the game.  The Streaks led by 20 at the half, then a 17-2 fourth quarter really put the hammer down on the Raiders.
Everybody scored for the Silver Streaks.  All ten Varsity players who were dressed on Friday night got into the scoring book, led by Jaylin McCants — 23 points, 14 rebounds.  It was his third double-double in three games, and he had three dunks in the fourth quarter to the delight of the Silver Streaks student section.
Our Dave's Autobody Crunch Time Player of the Game was Eric Price with 20 points and four rebounds.  Price got things going offensively for the Silver Streaks, as they struggled with the Wells zone in the first half.
The Streaks will take on Champaign Central in the final game of the Thanksgiving Tournament Saturday night.  Pregame immediately follows Silver Streaks girls basketball against Pontiac on WGIL, WGIL.com, and WGIL on the TuneIn Radio app.  Central has played two one-point games in the tournament so far, and are 1-1 in the tourney.
Miss the game?  Listen to it in its entirety here!