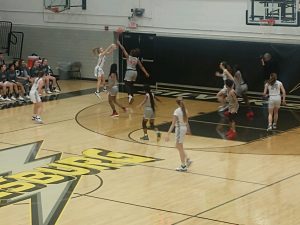 The Galesburg Silver Streaks move to 3-2 on the season after a victory Saturday afternoon over the Alton Redbirds 62-33 in the first of two games at John Thiel Gym on the final day of the Thanksgiving Tournament.
The Streaks held Alton scoreless until the 4:20 mark of the first quarter, when they finally hit a free throw.  In fact, only two Alton players even scored in the first half.
Galesburg was up 17-5 at the end of the first quarter, and outscored 19-9 in the second quarter, leading up to a 36-14 halftime lead, and then went on to the 62-33 victory.
Riley Jenkins led the way with 17 points for the Streaks.  Audrey Peck had 8 points, while Kadynce Lydic and Chelsea Stevenson each scored 7. But Arleta Brown, our Dave's Autobody Crunch Time Player of the Game, did a very good job defensively — and also came off the bench and scored six points for the Streaks, who went 13-14 from the free throw line. In fact, they hit their first 13 free throws in a row, only missing the 14th shot.
The Streaks girls play Pontiac Saturday night in the second game of the day. Tom Meredith has the broadcast starting at 5:40pm with the pregame, and 6pm with the tipoff, on WGIL, WGIL.com, and WGIL on the TuneIn Radio app.
Miss the game?  Listen to it in its entirety here!
Tags: