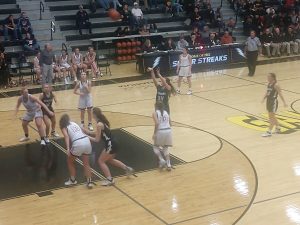 The Galesburg Silver Streaks moved to 4-2 on the season with a 56-29 victory over the Pontiac Indians in their second game of the day at the GHS Thanksgiving Tournament Saturday.
Riley Jenkins led the way offensively with 19 points.  She had a couple of three-pointers and four two's, and was 5 for 7 from the free-throw line.  The Streaks had a nice balanced attack throughout the game, and played really good defense in the second half.  They totally shut the Indians down.
Chelsea Stevenson was our Dave's Autobody Crunch Time Player of the Game.  She scored just four points, but made two shots early on that got the Streaks going, and got them to the lead.
Next up for the Streaks:  a conference game versus Rock Island Thursday night at John Thiel Gym.  You can hear the game on WGIL, WGIL.com, and WGIL on the TuneIn Radio app.
Miss the game?  Listen to it in its entirety here!
Tags: