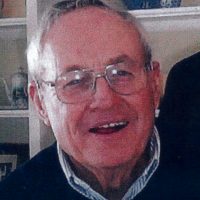 Mr. George I. Inness, 85, of Galesburg, Illinois died 10:35 p.m. Wednesday, November 27, 2019 at OSF St. Francis Medical Center, Peoria.
He was born August 16, 1934 in Galesburg to Henry V. and Grace (Metcalf) Inness.  He married Marcy Charlet, March 6, 1960.  She survives.
Also surviving are three sons, Michael (and Lisa) Inness, James (and Eileen) Inness, and John (and Kim) Inness all of Galesburg, two brothers, Robert (and Monica) Inness, and Richard (and Pam) both of Galesburg, two sisters, Joanne Muck of Rockford, Illinois and Jane Youngquist of Galesburg, seven grandchildren, Crystal (and Ian) Johnson, Patrick Inness, Michael V. Inness, Forrest Inness, Jacob Inness, Noah Inness, and Grace Inness and two great grandchildren, Beck and Hendrik Johnson.  He is preceded in death by his parents.
George graduated from Galesburg High School in 1952.  He attended Iowa State University, Ames, Iowa where he was a member of Tau Kappa Epsilon fraternity.  He and the members of the TKE's got together every year for 60 years.  He was a farmer his entire life and owned and operated Inness Farm Supply.  He retired in 2005.  He was a member of First Baptist Church in Galesburg where he was a board member and a bus driver for 40 years.  He was a member of 4-H, F.F.A. and was involved with Shorthorn Cattle exhibits throughout the United States.  He served on the American Shorthorn Association Board as director and two years as president.  He, his parents, and brothers hosted the Farm Progress Show in 1972.  He was a member of Galesburg Rotary, and was involved with Galesburg Regional Economic Development Association.  He was a volunteer for C.A.S.A.  He enjoyed fishing in his pond and caught a 7 ½ pound Large Mouth Bass with his grandson, Michael.  In George's words, "I've had a fun life because of the good Lord and my wonderful wife.  I am lucky she asked me to marry her"  "I am mostly proud of my sons and daughters in law."  Family was important to George especially his grandchildren and the closeness he shared with his brothers and sisters.  He was highly respected by his nieces and nephews.  .
A Celebration of Life service will be 10:00 a.m. Tuesday, December 3, 2019 at First Baptist Church in Galesburg.  Rev. Bob Myers will officiate.  A luncheon will be served following the service for friends to visit with the family.  A private committal service will be in Linwood Cemetery, Galesburg.  Memorials may be made to First Baptist Church or Galesburg Rescue Mission.  Hinchliff-Pearson-West Funeral Directors and Cremation Service Galesburg Chapel is assisting the family with arrangements.  Online condolences may be made at www.h-p-w.com.