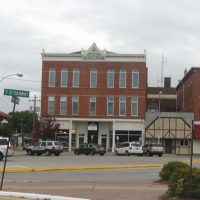 DeNovo, Monmouth's only brewery, will soon be getting a brewpub.
Patton Block Grill and BrewPub is set to open sometime in the late spring-early summer of 2020 according to Kevin Cerar.
This is a joint venture between former owner of Petey's Pub, The Barnstormer and The Packinghouse, Cerar, President of Midwest Bank in Monmouth Chris Gavin, and Gavin's wife, Lisa.
Cerar said it was time to get "back on the horse" after closing a pair of Maple City restaurants last year, saying it's a "great project" with "great people."
"We kind of talked back and forth a little bit and I obviously showed some interest and he thought well why do we get some other guys involved and some beer," Cerar says.
He says planning has been in the works for most of 2019.
Cerar will manage the day to day operations for Patton Block Grill and Brew Pub, named after the historic building that business will occupy on the town square.
The building was built in 1891 and has been home to numerous businesses and organizations but Cerar says it's in "great shape."
He says they're going to have a small menu and focusing on what they do make being the best, mentioning some steak, seafood and chicken sandwiches.
Cerar says it's his hope, and he thinks the Gavins', that Patton Block Grill's entrance to the downtown will pave the way for other businesses to set up shop and turn the Maple City's downtown into a destination.