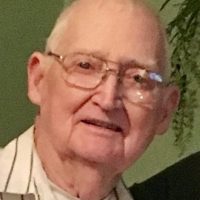 Robert L. "Bob" Shinn, 87 of Abingdon, passed away at 3:33 p.m. Saturday, December 7, 2019, at Seminary Manor in Galesburg. He was born May 4, 1932, at the family home in Cedar Township, Knox County, Illinois, the son of Roy and Hazel (Severns) Shinn. He married Pauline G. Carpenter on July 28, 1951, in Knoxville.
Bob is survived by his wife, Pauline; two sons, John Shinn of Galesburg and Ronald (and Susie) Shinn of Abingdon; grandchildren Merissa (and Tyler) Clark and great-grandson Nolan of Abingdon, Dustin Shinn of Macomb, Michael Parkins of Lewiston, Ricky and Jason Shinn, both of Bloomington, Timmy Shinn of Stamford and Felicia Shinn of Hopedale; one brother, Donald E. (and Reta) Shinn of Lexington, Kentucky; one sister-in-law, Wilma Carpenter of East Hannibal, Illinois; and many nieces, nephews and their families. He was preceded in death by his parents and one sister, Betty Selph.
Bob has lived in Abingdon all of his life. He worked at the Abingdon Pottery for 38 years, retiring on April 1, 1994. In earlier years, he and Pauline participated in competitive couple's roller skating and enjoyed camping and riding motorcycles.  In later years, he visited Pauline in the nursing home every chance he could and he loved to be in his shop fooling with lawnmowers and anything else you could imagine and mowing his yard.  He loved it when the family came to visit and especially loved to play with his great-grandson Nolan.
Funeral service will be held at 10 a.m. Wednesday, December 11, 2019, at the Hinchliff-Pearson-West Funeral Directors and Cremation Services Abingdon Chapel. Pastor Manuel Rojas will officiate. Burial will be in the Abingdon Cemetery. Visitation will be held from 5 p.m. to 7 p.m. Tuesday at the chapel.
Memorials may be made to the family for a fund to be established. Online condolences may be made at www.h-p-w.com.