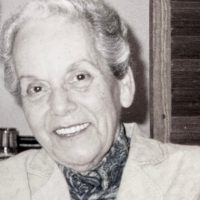 Carol L. "Sue" Chase, 86, passed away December 7, 2019, at the Knox County Nursing Home surrounded by her three sons: Chris Chase, Michael Chase, and Steve Chase. Born in Denver, Colorado, Sue moved to Galesburg in 1957 with her three boys and her first husband, Rowland Chase, who taught theater at Knox College. She married again to Omar Mumey, a man raised on a local farm who was the principal at Knoxville High School for many years. She is also survived by three step-daughters: Marti Schusterick, Susi Watt, and Joni Gimnicher, 22 grandchildren, 20 great-grandchildren, as well as her brother Tom MacCluskey, her sister Maureen Elliot, and several nieces and nephews. In addition, she is survived by her final sweetheart Charlie Jenkins and other dear friends.
Chase went to Grinnell College in the early 1950s, but completed her degree at Western Illinois University in Macomb, in the mid-1960s. She then worked as an elementary school teacher in Abingdon. Her other jobs included working for an Illinois state job training program, the Department of Children and Family Services, the Knox College Alumni Office, and, with her second husband, the Carl Sandburg College Career Guidance Center.
Chase was an active community volunteer. She and her first husband co-founded the Prairie Players theater group, first as an annual summer theater in a large tent at Lake Story and then as a year-round theater in various locations in town. She was an actress, a frequent director, and a board member for many years. While living for a time in DeKalb, she co-founded the DeKalb Learning Exchange, a community-based, nonprofit, skills exchange. In her 70's, she volunteered for FISH, Galesburg's food pantry, and ultimately served on the board. In her late 70's, she volunteered at the Galesburg Visitor Center.
Sue delighted in her family and friends, being in nature, and sharing Galesburg's town history, including its founding by abolitionists and its role in the Underground Railroad. She once led a group of Knox College faculty wives in a demonstration against segregated housing at a state convention of realtors held in Galesburg. She will be remembered by all who love her as a remarkably funny, smart, loving, and kind person.
Cremation rites will be accorded. Arrangements have been entrusted to Watson Thomas Funeral Home and Crematory, Galesburg. Memorial in her honor can be sent to Prairie Players, 160 South Seminary Street, Galesburg, IL 61401.