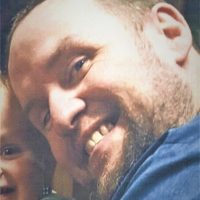 Charles William Eugene Lee Cook, age 44, of East Galesburg, Illinois died at 12:14 A.M. on Friday, December 6, 2019, at the OSF Saint Francis Medical Center in Peoria, Illinois. Charles was born on July 15, 1975, in Galesburg. He was reared and educated in the Knox County area, attending and graduating from the Spoon River Valley High School in 1993, where he was voted as the 'Most Likely to Become Political' and was very active in the FFA and band. After graduation, he went on to attend Carl Sandburg College for a degree in law enforcement and was awarded for his skill in reading blueprints. On June 20, 2008, Charles was married to Katina Morlan in Avon, Illinois.
Left to cherish his memory is his loving wife of eleven years, Katina Cook of East Galesburg; six children: Darrien Dilts of East Galesburg, Josie Cook of Havana, Illinois, Mason Cook of Knoxville, Illinois, Cydney Dilts of East Galesburg, Kayla Dilts of East Galesburg, Kaleb Cook of East Galesburg; two grandchildren: Kayden and Teagan Morris of East Galesburg; and several aunts, uncles, and cousins. He was preceded in death by his grandmother, Pearl Starnes; and father-in-law, Roy Morlan.
Charles worked for sixteen years as an analyst at Farmland, and then went on to work building machines at Heat and Control. He was a jack-of-all-trades who enjoyed mechanics, welding, and farming; he had a working knowledge of machinery and was skilled in computer work as well as reading blueprints.
"Charlie was an old school hippie at heart with a conservative twist. He was passionate in everything he did and did not hold it against anyone if they happened to disagree. He was stubborn, but in a good way, and I absolutely LOVED the fight in him… always a challenge. Our time with him will always be in our hearts, and I cannot thank him enough for always, always being there for me and loving me so intensely."
Cremation rites will be accorded. A Celebration of Life will be held at a later date. Memorial contributions may be made to the family or to the American Foundation for Suicide Prevention. Hurd-Hendricks Funeral Home & Crematory is assisting the family with arrangements. Online condolences and expressions of sympathy may be made through www.hurd-hendricksfuneralhome.com.