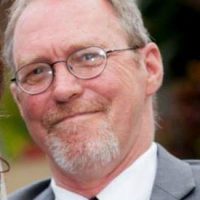 Bruce Paul Nelson, 62, of Gilson, died peacefully Sunday, December 8, 2019, at OSF St. Mary Medical Center, Galesburg, with his family by his side. Bruce was born July 7, 1957, in Galesburg, the son of Paul Warren and Violet Mae (Scott) Nelson. He married Trudy Ann Hanna on February 21, 1976, in Galesburg. She survives as do two sons, Christopher (Emi) Nelson of Japan and their children, Len, Ken, Joe, and Kai, and Robert Nelson of Gilson and his son Braden; and two daughters, Nickole Nelson of Gilson and Amy (Steve) Tagtmeier of Bolingbrook and their son, Tyler. Bruce was preceded in death by his parents and one sister, Barbara Pennington.
Bruce worked as a plumber and pipefitter for Local 25 and 130 for 35 years, retiring in 2012. While working, Bruce enjoyed volunteering with Habitat for Humanity through the Unions. Bruce enjoyed swimming and SCUBA diving. He loved reading, laughing, and telling a good joke. Bruce enjoyed singing karaoke and when the boys were growing up he coached baseball for many years. But most of all, Bruce enjoyed being with his family and his grandchildren.
Visitation will be 1 to 2 p.m. Tuesday, December 10, 2019, at Watson Thomas Funeral Home and Crematory, Galesburg. Funeral services will follow at 2 p.m. Pastor Darrell Grimm will officiate. Burial will be in Memorial Park Cemetery, Galesburg. Memorials may be made to Autism Speaks. Online expressions of sympathy may be sent to the family at www.watsonthomas.com.