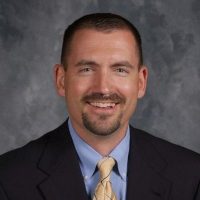 Knoxville District 202 school superintendent Steve Wilder was approved Thursday morning as the new head of Sycamore District 427, near Dekalb in Northern Illinois.
Wilder's hiring was approved unanimously by the Sycamore School Board after serving as Knoxville's school chief for the past ten years according to reporting from WLBK radio in Dekalb.
Wilder will assume his role in Sycamore on July 1, 2020.
Sycamore Board of Education President Jim Dombek lists Wilder's "impressive credentials" his "talents and personality, as well as his ability to relate to people", as reasons why he was hired.
Wilder says in a press release through the Sycamore District that he knows Sycamore will "enable me to grow professionally, and will offer exciting opportunities for our family."
Wilder was the runner-up for the Galesburg District 205 Superintendent job in 2017 when ultimately John Asplund was selected.
Most recently the 202 Board extended Wilder's contract in 2017 to last until the end of the 2020-2021 school year.
Wilder will be on Galesburg's Morning News Friday morning at 7:10 a.m.