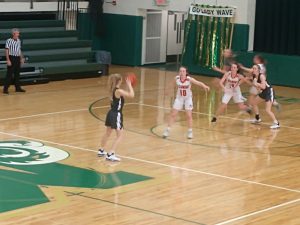 The Galesburg Silver Streaks girls basketball team lost their opener in the Mattoon Holiday Tournament Thursday to Altamont Indians, 49-39. The Streaks drop to 9-5 on the year, while Altamont moves to 12-0.
The Streaks had a pretty good first half, outscoring Altamont 18-9 in the second quarter, to take a 29-23 lead at halftime. But, the Streaks were able to hit only three baskets in the second half — two of them came in the third quarter, with the other late in the fourth. The rest of the points in the second half fame on free throws. They only scored four points in the fourth quarter, and six points in the third quarter.
The Streaks shot just 15 for 54 from the field, while Altamont was 16 for 42 and hit 13 of their 15 free throws.
Riley Jenkins and Kaylee Miller scored 11 apiece for the Streaks. Audrey Peck had seven points and eight rebounds along with five blocked shots, and was our Dave's Autobody Crunch Time Player of the Game — four of the five blocked shots coming almost in a row during the second quarter.
The Streaks next play Olney East Richland at 4:30pm Thursday. That game will be on 92.7 FM The Laser, as the GHS Boys will be playing IVC at the Taylorville Holiday Tournament at that time on WGIL.
Miss the game?  Listen to it in its entirety here.
Tags: