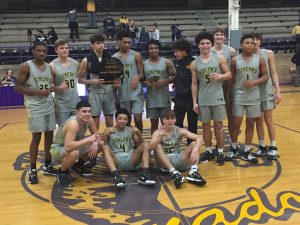 The title game of the Taylorville Holiday Tourmanent Saturday turned out to be just as hard fought and as intense as we thought it would be. But, it was the Galesburg Silver Streaks who ended up on top of Western Big 6 Conference foe Sterling 48-44, to improve to 13-2 on the season.
The Silver Streaks had a 12 point lead going into the final quarter before Sterling battled back, outscoring the Streaks by eight. But it was a Rylee Milan free throw that got the lead back up to two possessions, a four point lead. For that, even though Milan scored three points in the game, he was named our Dave's Autobody Crunch Time Player of the Game, because that was a key free throw that helped preserve the Silver Streaks victory over the Golden Warriors.
Eric Price was the leading Streaks scorer with 18 points. Jaylin Mccants was held under double figures to just eight, but finished with 11 rebounds. Dre Egipciaco had 9. Alex Egipciaco had eight rebounds. That made for a true team effort for the Silver Streaks. Sterling committed only one turnover the entire game. That's just the kind of intensity the game was, and the kind of well-played game it was for the Golden Warriors. But it was the Streaks who came out on top.
Mccants and Price were named to the Taylorville All-Tournament Team.
Galesburg's next game will be against Western Big 6 Conference opponent Rock Island Alleman next Friday, January 3. You can hear the game on WGIL, WGIL.com, and WGIL on the TuneIn Radio app.
Miss this game? Listen to it in its entirety here!