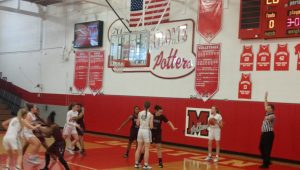 The Peoria High Lions downed the Galesburg Silver Streak Girls basketball team 60 to 40 at the Downstate Classic at Morton. The Streaks had a good run, in fact they were able to tie the game in the third quarter at 30 a piece. Too many turn over and not enough shot attempts was the downfall for the Streaks girls on Saturday. The streaks were 14 for 30 from the field but they also had 31 turnovers in the game.
The Streaks were led in scoring by Audree Peck and Riley Jenkins with 10 a piece Audree with 8 rebounds and 4 blocks and Riley with 6 rebounds and 6 assists. Riley was also our Dave's Auto Body Crunch-Time Player of the Game.
The Streaks fell with a final score of 60 – 40 to the 5th ranked Peoria High Lions.
The Streaks play Morton Saturday night in the Downstate Classic Tournament.  You can hear the game starting at 6:10pm on 92.7 FM The Laser, as the Galesburg Boys will be playing in the MLK Tournament on WGIL.
Did you miss the game??? You can listen to it in its entirety right here!!!