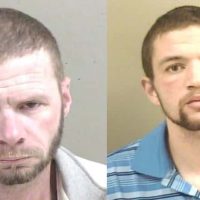 Police have arrested two men from Galesburg saying they burglarized a church, a garage, and stole a car in Keokuk, Iowa.
Dale Knajdek, 44, and Justin Dykeman, 24 are charged with burglary, possession of stolen property and the most serious; burglary to a place of worship.
Galesburg Police say in a release that they searched Knadjek and Dykeman's mutual home on Knox Street per a warrant last Thursday.
Detectives located items stolen from Galesburg First Christian Church and Haneghan's Automotive, as well as a vehicle stolen from Keokuk Nazarene Church.
Keokuk Police executed a warrant on the vehicle Tuesday and found a majority of the rest of what was reported stolen from Haneghan's.
The pair would be charged with a series of Class 2 and 3 felonies, but because they are accused of stealing from a church, it becomes Class 1, with a sentencing range of 4 to 15 years.
Knadjek and Dykeman are also expected to face charges in Lee County, Iowa.