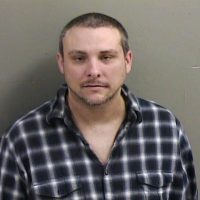 Galesburg Police arrested a man Friday wanted on numerous felony warrants in Knox County.
Officers responded to the 800-block of South Chambers St. for a well-being check on a resident.
Police had received information that the resident was with 39-year-old Christopher Nickas, who is wanted on warrants of aggravated fleeing, criminal damage to gov't property, and four counts of probation violation.
The resident didn't allow officers to enter the home.
Police obtained a search warrant, and utilized K9 Zeus.
Zeus was sent into a hole in the wall that was hidden behind a dresser and found Nickas hiding beneath some insulation.
Nickas suffered minor injuries to his abdomen from being bitten by Zeus.
Nickas was transported to the Knox County Jail, where he has three bonds set at $50,000, $25,000 and $1,500.
He was also charged with resisting a peace officer related to his apprehension Friday.