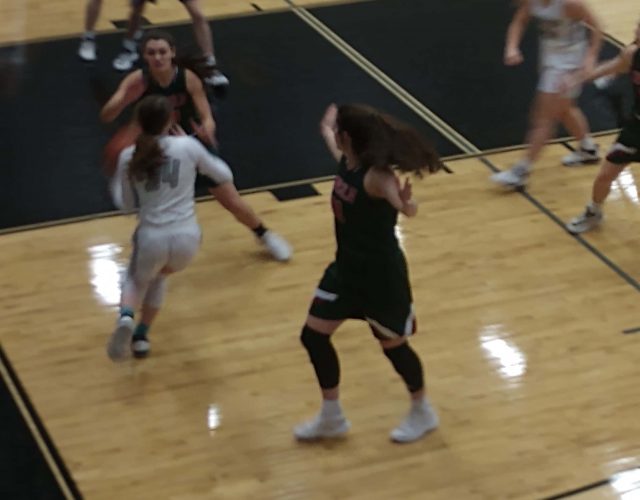 The Galesburg Silver Streaks wrapped up the Downstate Classic Saturday by having a nice win over the Lincoln Railsplitters 62-31 at John Thiel Gym.
The Streaks jumped out early, leading 13-6 at the end of the first quarter, and got up as much as 19-6 in the second quarter, but were only up 22-20 at the end of the first half. The third quarter was a different story. The Streaks came out with great intensity, outscoring Lincoln 16-8 in the third quarter, and 24-4 in the fourth quarter.
Galesburg is now 14-11 on the season. They were led in scoring Saturday by Riley Jenkins with 23 points — five baskets and a three-pointer, and 10 for 12 from the free throw line. She also had four rebounds, four assists, five steals, and a blocked shot.
The Streaks had four players in double figures. Chelsea Stevenson scored 13 points on three three-pointers, a couple two's, and two for two from the line. She was our Dave's Autobody Crunch Time Player of the Game. Audree Peck had 12 points on six baskets. Lauren Livingston had 11, hitting threes and twos, and was one for one from the free throw line.
The Streaks were 21 for 48 from the field, and six of 11 from beyond the arc. They forced 27 Lincoln turnovers, ten of those in the fourth quarter. The Streaks turned the ball over only 14 times.
The GHS Sophomores also defeated Lincoln, 60-38.
The Streaks return to Western Big 6 Conference play against Quincy Thursday, January 30, in a game you can hear starting at 6:40pm on WGIL, WGIL.com, and WGIL on the TuneIn Radio app.
Miss the game?  Listen to it in its entirety here!
Tags: