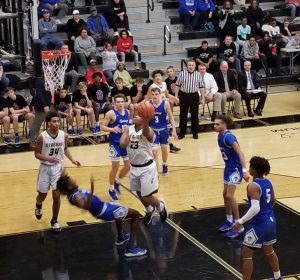 The Galesburg Boys Basketball team maintains its hold on 1st place of the Western Big 6 conference knocking off the Quincy Blue Devils 66 – 52 behind a couple of career nights for some Silver Streaks. Jaylin McCants was the leading scorer in the game with 25 points; he had career high 21 rebounds to help lead the Silver Streaks in out rebounding Quincy 40 to 23 for the game.
Dre Egipciaco had a career high 24 points for the Silver Streaks including 11 in the 4th quarter and knocking down 4 straight free throws on a big night for him.
For those reasons both Dre Egipciaco and Jaylin McCants are our Dave's Auto Body Crunch-Time CO Players of the Game. The Silver Streaks improved now to 21 and 3 on the season as they moved up in the AP class 3A rankings to number 8.
Galesburg is now 7 and 2 in 1st place in the Western Big 6 still a half game ahead of Geneseo, which defeated United Township.
 The Silver Streaks next action is at Sterling Friday night (1/31/20).  We will have that game with pre-game coverage starting at 7:06 P.M. on 93.7 FM and 1400 AM, WGIL
Did you miss the game??? You can Listen to the entire game here!!! 
You can also listen on TuneIn's website or with their apps for Android or iPhone

Tags: