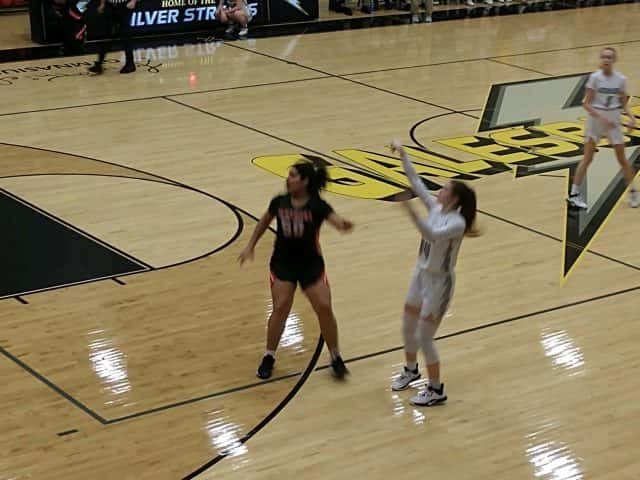 The Galesburg Silver Streaks girls basketball team got a win over the United Township Panthers in a Saturday Western Big 6 Conference game, 68-54.
Early on, it looked like it was going to be all Jade Hunter, as she had 21 points in the first half for the Panthers, largely on second-chance opportunities, and a lot of offensive rebounds.  But, it was something the Streaks changed at halftime, as they had a much better second half, and even somewhat in the second quarter.  The Streaks trailed 19-12 at the end of the first quarter, with Lauren Livingston scoring a three-pointer at the end of the quarter, and another three-pointer at the start of the second quarter, on the way to a big game for the Streaks.
Galesburg shot the ball very well in the game — 25 for 49 from the field, including eight for 18 from behind the arc.  They did, however, struggle a bit from the free throw line, where they were just 10 for 16.
Livingston led the way with 22 points, 11 rebounds, five assists, and a steal.  She was also our Dave's Autobody Crunch Time Player of the Game.  Riley Jenkins scored 20 points, hitting three three-pointers in the game. Jenkins also had two rebounds, seven assists, and a block.  Audree Peck also was in double figures, scoring 16 points on seven baskets, and was two for six from the line.  She also had five rebounds, a steal, and two blocked shots.
For UT, Hunter had 29 points for the game and 13 rebounds, but scored just eight points in the second half.  Jasmine Bell scored 16.
The Streaks are now 15-12 on the year, and 4-7 in the Western Big 6.  United Township falls to 8-18 overall, and 2-9 in the conference.
Miss the game?  Listen to it here!
Tags: