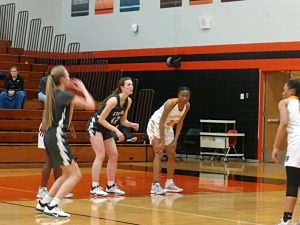 Here is  recap on tonight's game from WGIL's  Tom Meredith:
The Galesburg Silver Streaks down  the  Peoria Manual  Rams Tuesday night 54- 21 was a final score for game that ended up with a continuous clock. The Streaks picked up their 16th win on the season against 12 losses Manual dropped to 3- 20.
The Streaks  were  20 for 50 from the field , they  only turned the ball over 11 times in the game just 3 in the 2nd half in the meantime forcing 21 Manual turnovers. It was Audrey Peck leading the way for the Streaks 20 points on 10 of 11 shooting and was 0 for 2  from the line, she also had 8 rebounds, 2  steals and a couple blocks and Audrey was our Dave's Auto Body Crunch-time Player of the Game. Riley Jenkins had 14 points and nearly missed the  quadruple double,  7 rebounds,8 steals she also  had a couple of threes  and a couple of twos and was 4 – 8 from the line. The Streaks win the game  by a final of  54-21
The Galesburg Silver Streaks Girls will be back in action Thursday night  and will travel up  to Rock Island to take  on the Alleman Pioneers. The Streaks are  now 16 and 12 on the season.
Did you miss the game???  You can listen to it in its entirety right here!!! 
Tags: