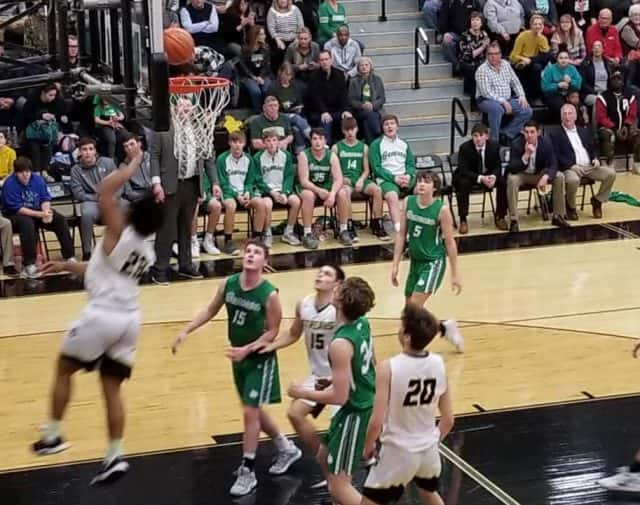 Recap of the game from WGIL's Brad Bennewitz:
In a highly anticipated 1st place showdown in the Western Big 6 on Tuesday night, the Galesburg boys basketball team got off to a tough start against the Geneseo Maple Leafs, falling behind 11-0 from the opening tip. But then a timeout and a 14-0 run put the Streaks on top for the 1st time.  It was game on the rest of the way, ending with an impressive 87-64 win over the Maple Leafs.
Jaylin McCants hit a 3-pointer at the buzzer going into halftime to give Galesburg their biggest lead to that point at 39-33. The Streaks held Geneseo superstar Isaiah Rivera scoreless in the 3rd quarter, a quarter when the Streaks outscored the Maple Leafs 22-11 and went on to that 23 point victory. Jaylin McCants matched  Rivera in scoring point for point. McCants finished with 32 points on the night and moved past Eric Johnson into 6th place on the all-time GHS scoring list.
Our Dave's Autobody Crunch-Time Player Of The Game was Eric Price. He had 21 points on the night, including 10 in the 2nd half and some huge offensive rebounds to help the Silver Streaks build that lead in the 3rd quarter and pull away the rest of the game.
Rylee Milan also finished in double figures with 10 as the Silver Streaks improved to 25-3 on the season. They are now 10-2 in the Western Big 6 Conference, a game ahead of their closest competition, Geneseo and Quincy.
The Silver Streaks now hit the road to wrap up the regular season starting at Moline on Friday night. The Streaks are anticipating a tough contest against the Maroons, who in the last 2 weeks have taken Rock Island into over-time and only an Isaiah Rivera buzzer beater 2 weeks ago helped Geneseo prevail at Wharton Fieldhouse that night.
The GHS sophomores won as well on Tuesday night,  76-40.
Did you miss the game??? You can listen to the entire game right here!!! 
Tags: