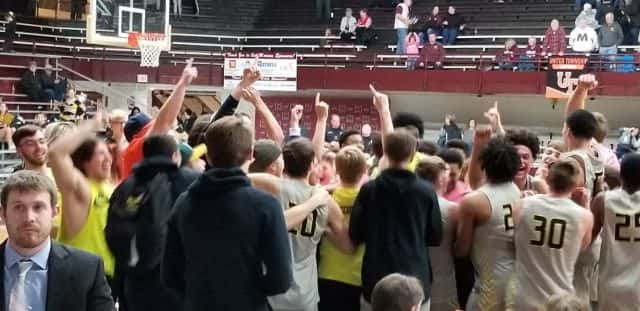 The Galesburg Silver Streaks boys basketball team secured its first outright Western Big 6 Conference championship in 22 years Friday night,  holding off a scrappy Moline Maroons team 48-43 at Wharton Fieldhouse.
The game was in doubt the whole way.  The Streaks led by no more than seven, and Moline had no more than a three point lead, as the lead jockeyed back and forth all night long. What turned the tide was Moline with the ball, down three, and a block by Kyleb Meadows on a Kyle Taylor three-pointer that could have tied the game.  Alex Egipciaco rebounded the block and outletted it to Meadows to secure the win.  It was because of that play, in addition to the energy that Alex helped lead the team to late in the third quarter, he became our Dave's Autobody Crunch Time Player of the Game.
Jaylin Mccants led the Streaks in scoring and rebounding — his 15th double-double of the season — with 14 points and 16 rebounds.
The Silver Streaks go to 26-3 on the season, 11-2 in the Western Big 6, and outright conference champions because of a Rock Island win Friday night over Geneseo..
The GHS Sophomores lost, as Moline hit a three-pointer late, 52-51.
The Streaks have a week off, playing at Rock Island next Friday night.  They'll wrap up the regular season the following Tuesday at Limestone in a non-conference game.
Miss the game?  Listen to all the action here!
Tags: