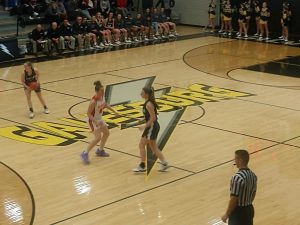 Recap of Tuesday nights game from WGIL's  Tom Meredith:
The season came to an end for the Galesburg High School Girls Basketball Team on Tuesday night as they fell to the Rock Island Rocks  50 to 33 was the final score. It was a combination  of things, 24 turnovers by the Streaks 16 of those in the 1st half and not getting the ball in the basket.  The Streaks were just 7 for 34 from the field over all, they hit 3 for 13 from beyond the 3 point arc and just 4 for 21 inside the arc.  So the Streaks really struggled, they were 16 to 22 from the free throw line.
It was Chelsea's Stevenson and Riley Jenkins leading the way scoring wise. Riley with ten points, only had one basket and was 8 for 12 from the free throw line, she  also had 6 rebounds 3 assists a couple steals and a block.
Chelsea Stevenson with 10 points with a couple of 2's  and  a couple of  3's  and especially in those middle quarters. In fact  she scored Galesburg's  1st basket of the game.   Chelsea  kept us as close as we were gonna be with her shooting and she also had a couple of rebounds and a steal.  Chelsea Stevenson was our Dave's Auto Body Crunch-Time Player of the Game.
Rock Island was led by Laura Simmer with the double double 12 points and 11 rebounds and they got 10 points from Emily Allison.
The Streaks finish the year with an 18 and 14 record.  Rock Island is now  23 and 9 and they move on to the regional championship on Thursday night when they will take on the Peoria High Lions.
Missed the game? Listen to it in its entirety here:
Tags: