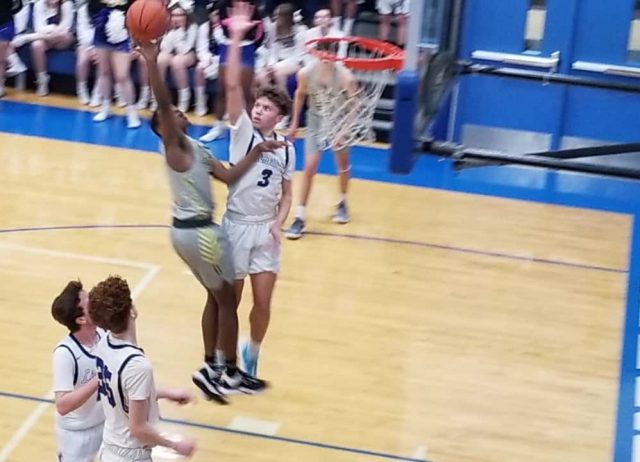 The Galesburg Boys basketball team finished off a 28 win regular season with an 85 – 58 win at Limestone the final score making it sound a lot easier than it really was. Late in the 3rd quarter the Silver Streaks led by only 9, they had taken a 23 point lead early in the 3rd quarter but a 12 nothing Limestone run got the Rockets back into the game and again trailed by just 9 late in the 3rd quarter.
Demarco Harden, our Dave's Auto Body Crunch-Time Player of the Game, knocked down a 3-pointer at the buzzer to finish the 3rd quarter, which gave the Streaks a 12-point lead heading into the 4th quarter. That sparked a 24-0 run that by the time it was over,  the Streaks, in a flash, had built the lead to 83-50 and a running clock quickly ended the game. It was the Streaks 28th win of the regular season.
Jaylin McCants finished with 24 points and 8 rebounds to lead the Streaks,  Demarco Harden  had a career high 18 points 5 out of 6 from 3 point range. Kyleb Meadows off the bench had 16 and Eric Price also finished in double figures with 10, he is now over 800 points scoring for his career.
Galesburg sophomores also were winners 65 – 49 they will wrap up their regular season and a sophomore tournament at Metamora. 
Meanwhile,  the  Galesburg  varsity is done.  They will  open regional play coming up on Tuesday night next week at John Theil  gym when they will play the winner of the regional opening game Monday night between Richwoods and Canton.
DID YOU MISS THE GAME?? YOU CAN LISTEN TO IT IN IT'S ENTIRETY HERE!! 
Tags: