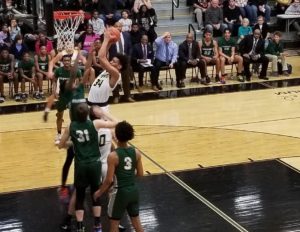 Here is recap of tonight's Game from WGIL's Brad Bennewitz :
The Galesburg Boys Basketball team polished off its 29th victory of the season and did so largely on the strength of a 4th quarter in which the Streaks outscored Richwoods 25 to 15 to win it by 20. That wasn't the only quarter that the Silver Streaks took advantage. The game was tied at 14 after the first quarter when the Streaks held Richwoods to just 7 points and in the 2nd quarter and they took a 9 point lead into halftime.
It was a 3 point bomb by Jaylin McCants, flat footed, from nearly 30 feet, that splashed through the bottom of the net as a 3rd quarter ended to give the Streaks a 10 point lead and spark that big 4th quarter run to secure their 29th win of the season.
Due to that shot and along with some monster-blocked shots McCants was our Dave's Auto Body Crunch-Time player of the game. He finished with 24 points 12 rebounds his 19th double double of the season. Three other players finished in double figures as well, Dre Egipciaco with 13, Alex Egipciaco with 12 and Eric Price at 11 points 8 rebounds.
The Silver Streaks become only the 4th boys basketball team in school history to win 29 games in a season and they look to become only the 2nd boys basketball team in school history to win 30, when they play for their 1st regional championship since 2013 Friday night. They will play the winner of either Peoria Manual or Limestone who will play each other at John Thiel gym in the other regional semifinal game on Wednesday night.
DID YOU MISS THE GAME?!?!  YOU CAN LISTEN TO THE ENTIRE GAME RIGHT HERE!! 
Tags: