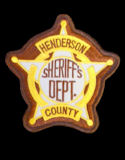 Henderson County Sheriff Donald Seitz has announced the arrest of a rural Oquawka resident being charged with predatory sexual assault of a child.
45-year-old Jason M. Cameron was taken into custody by Montana State Police in Park County, Montana per a warrant issued in Henderson County.
Deputies conducted a warranted search at Cameron's rural Oquawka residence, assisted by Illinois State Police.
The investigation was spurred by a complaint was made to police concerning an alleged sexual assault of a child.
Cameron is currently being held on $250,000 bond in Montana awaiting extradition back to Henderson County.
He is being charged with Class X Predatory Criminal Sexual Assault of a Child, which if guilty could yield him a prison sentence of 6-60 years.