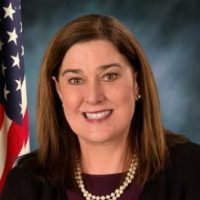 State Sen. Jil Tracy is making known her opposition to the Pritzker administration's rule on businesses enforcing mask use.
The rule says that businesses must make "reasonable efforts" to get their customers to comply with Phase 4 guidelines, and specifically wearing a face covering.
The Pritzker rule, which was upheld by the Joint Committee on Administrative Rules Tuesday, allows businesses to face fines up to $2,500.
A motion to suspend the rules was introduced by Rep. Steven Reick, R-Woodstock, but failed in a vote of 6 to 5. The failure to suspend the rules meant they officially went into effect.
Republican Tracy of Quincy says it's unreasonable to expect business owners to "police" their customers or "face steep fines."
The rule is also opposed by the Illinois Retail Merchants' Association, the Illinois Manufacturers' Association, and the Illinois Chamber of Commerce.