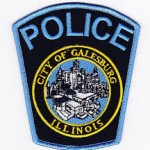 On Saturday, November 21st, a woman in her 50s was in the checkout line at Save-A-Lot in Galesburg paying for items when 30-year old Alvin Riley of Galesburg came up behind her and slammed a gallon milk jug down on the counter. The action startled the woman and she turned and looked at Riley who responded to her with, "What's your problem?" The woman remained silent and proceeded to check out. While exiting the store, several witnesses told police, Riley who was now in front of the woman, turned and punched her in the face and then ran towards a vehicle. A Galesburg man in his mid-50s also witnessed the incident and stepped in to defend the woman. After taking a hit himself, the man landed a few punches on Riley before he left in an SUV.
According to police reports, after reviewing security footage, Galesburg Police responded to the 200 block of Whitesboro Street and made contact with Alvin Riley. He was arrested for Aggravated Battery in a Public Place and transferred to the Knox County Jail.
Back on Friday, July 10th, an employee at Save-A-Lot in Galesburg witnessed a male subject concealing several alcoholic beverages attempting to steal them. The employee followed the subject to the exit where he took off running, got on a bicycle, crashed it, and dropped most of the alcohol as well as his wallet. The employee picked up the wallet and notified the police. Fast forward to Monday, November 23rd. A Galesburg police officer, while on patrol on North Seminary Street observed a male subject on a bicycle riding in traffic. When the officer pulled up to warn the bicyclist about riding in the street at night, the subject responded with an expletive remark. The officer stopped the bicyclist and recognized him from previous encounters: 42-year old Ryan Gonzales of Galesburg. Gonzales' Knox County Warrant for Retail Theft carries a $25,000 bond. He was arrested and transported to the Knox County Jail.