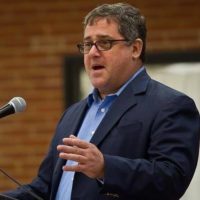 With lawmakers back in Springfield for the lame-duck session of the General Assembly, one bill that is being considered is receiving a lot of attention, and Knox County State's Attorney does not support it.
Jeremy Karlin announced on Facebook that, while he believes the criminal justice system needs reform, he does not support HB 163, a bill that would overhaul policing in the State of Illinois.
He says the bill has commendable parts, including addressing the use of force by law enforcement, prohibiting chokeholds, and prohibiting the "militarization of police departments."
Of the reasons he does not agree with the bill, Karlin notes that it would drastically change Illinois' murder statute involving forcible felonies, which allows the state to charge offenders of a forcible felony with murder if death is a consequence of their actions.
Such as the case of Jakobe Brown, the Peoria teen who was allegedly involved in the attempted robbery of Galesburg Gun and Ammo that resulted in the death of another assailant, a 17-year-old teen.
Karlin says the bill is being rushed through the General Assembly and he hopes the sponsors of the bill will go back to the drawing board to keep the good parts of the bill and eliminate those that put the public at risk.
Karlin says the bill favors detaining only when the defendant, quote, "poses a real and present threat to a specific, identifiable person or persons, or has a high likelihood of willful flight."
As an example, he says serial arsonists who set fires to people's homes would have to be released by law because the state cannot specifically identify the person in the home where the next fire would be.
He says the same can be said for gun traffickers, felons in possession of a firearm, and drunk drivers, among others.