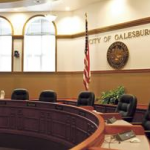 Galesburg City Council approved a resolution last night to honor former Galesburg Fire Chief, the late Dale May, by naming the Hawthorne Centre Regional Training Site for firefighters in his honor. During May's tenure as chief, he spearheaded the acquisition and opening of the fire training center, which is still in operation today and hosts many area training classes and activities. May's granddaughter Dena May Turner spoke on her family's behalf about May's legacy as a true fireman, and a leader who pushed his team to be better. "He was said to be ahead of his time with his vision for the department," she read. "And as I've been told by some of the men that worked with him, he was referred to as the "Chief of Chiefs" having the natural ability to engage those in his department. His strength is said to be one of the greatest motivational tools a leader can use." Another former Fire Chief Tom Simkins, was in the department in 1985 when the land for the training site was acquired. Simkins says it was May's mission to get the center going. Simkins says May was also instrumental in getting the various area fire departments coordinated.
There was no voting but a good deal of public comment on the Lake Storey expansion at the meeting. A firm that was hired by the council recently completed a nearly year-long Phase 1 study on the feasibility of the expansion, and the council recently tabled approving the Phase 2 study. Some council members have said that the amount of feedback they've received on this issue was been substantial. There were comments from landowners surrounding the Lake that have hired already hired lawyers and vowed not to sell their land, even at double value. Kevin Malley says without cheap land acquisition this project is "dead in the water."
"If you decide to go forward, I hope you will give the actual taxpayers of the city some time of assurance that there is a possible path forward to somehow acquire the land for the project because we don't see one."
Darla Krejci, who is a Knox County Board member and teaches nature classes at Lake Storey, talked about how water motorsports could harm the ecology of the area. Randy Newcomb, the Galesburg Tourism Director read a letter from his board in support of the project and the next phase of the study. Newcomb was the longtime Tourism Director in Kentucky Lake and he detailed some of the tourism opportunities with an expansion. He also encouraged robust community input. The vote on the Phase 2 study can be untabled by an alderman at any time, but it's expected that will happen sometime in the next two meetings.