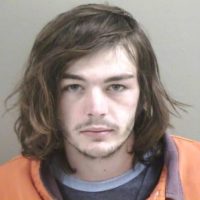 The Knox County Sheriff's Department says they've arrested a man who was allegedly holding a victim against her will for four days and torturing her.
An investigation led deputies to obtain a warrant to arrest 25-year-old Braden Mallery, as well as a warrant to search his residence in Lafayette, Illinois, a small village on the border of Knox and Stark Counties.
Knox County State's Attorney Jeremy Karlin says the victim was believed to be confined to a garage.
He also lists several tools Mallery used in torture, including a broomstick, a chair, a compression-powered airsoft gun, and a torch lighter.
Knox County Detectives found multiple items that were consistent with the unlawful restraint and aggravated battery that the victim described to police.
Meth, a firearm, and ammunition were also found in Mallery's home.
He faces charges of Aggravated Unlawful Restraint, Aggravated Kidnapping, Aggravated Domestic Battery, Interfering with the Report of Domestic Battery, Felon in Possession of a Firearm, and Violation of the FOID Card Act.
Judge Nigel Graham on Monday continued Mallery's bond in the amount of $150,000 with him needing $15,000 to be released. Graham also ordered Mallery to have no contact with the victim and appointed the Knox County Public Defender to represent him.
Mallery previously faced felony charges of reckless discharge of a weapon and aggravated assault in Knox County in 2019.
Police reports in that incident said that Mallery got into a physical altercation with a male relative and at some point fired a shotgun in the air, in the vicinity of two females.
One of the two female witnesses had told police that Mallery said he was going to "kill everyone and himself."
Mallery ended up having felony charges dropped for pleading to a misdemeanor assault charge.