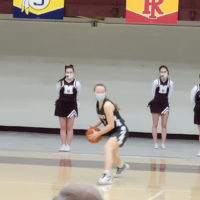 The Galesburg Silver Streaks girls basketball team moved to 5-0 on the season Friday night, after a 45-43 win at Moline against the Maroons.
It was a hard-fought battle for the Streaks.  They did lead at the half, 29-20, and outscored Moline 12-7 in the third quarter.  The Maroons outscored the Streaks in the fourth quarter 16-4.  The Streaks had a few turnovers against the full court press, but were able to hang on for the victory.
Riley Jenkins didn't get in the scoring column Friday, but still contributed seven rebounds and seven assists, a couple of steals, and three blocked shots.  But, the scoring slack was picked up.  Off the bench, Lily Hudgins, the Senior, scored 16 points, hitting four three-pointers and a couple of two's.  She had three assists, a steal, and a rebound, and was our Dave's Autobody Crunch Time Player of the Game.  Abby Davidson had ten points and seven rebounds.  Audree Peck had six points and nine rebounds.  Lauren Livingston had nine points.
The Streaks turned the ball over 20 times in the game.
Moline was led by Kadence Tatum with 17 points.  She was the only player for the Maroons in double figures.
Both teams hit six three-pointers, and not many free throws were shot in the game.  It was a very physical game, but not a lot of fouls called.  The Streaks were one for two from the line, while Moline was two for four.
The Streaks will play Geneseo Saturday night at the GHS Fieldhouse.  You can hear the game starting at 7:10pm on 92.7 FM The Laser.
Miss this game?  Listen to the action here!
Tags: