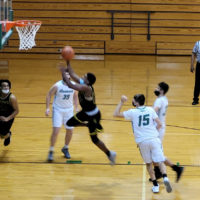 The Galesburg Silver Streaks boys basketball team finished off a very successful first week of the pandemic-altered season Saturday night, defeating the Geneseo Maple Leafs on the road 68-59.
The story of the game really came in the third quarter.  With the Streaks leading by just four at halftime, 24-20, they came out in the third quarter and put on a full court press, pounded Geneseo defensively, picked up the tempo of the game, forced the Maple Leafs into ten third quarter turnovers, and outscored Geneseo 27-13, to help build a 20 point lead and eventually win 68-59.
For his play in that third quarter, when Jeremiah Babers scored seven points and really led the offense, he was our Dave's Autobody Crunch Time Player of the Game.  He finished with nine.
The leading scorer in the game was Eric Price with 16.  He was one of three Galesburg players in double figures, along with Alex Egipciaco with 12, and Demarco Harden with 10.
The Galesburg freshmen won over Geneseo 42-40.  The sophomores lost 50-47.
The 3-0 Streaks now prepare for just two games next week. The Tuesday game against Alleman has been postponed.  So the Streaks play next Friday at home against Quincy, and Saturday at United Township.
Miss tonight's game?  Listen to the action here!
Tags: