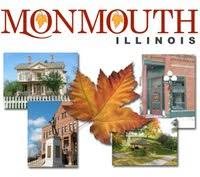 The City of Monmouth is looking for more small businesses that have taken a hit from the Coronavirus pandemic to issue grants to help cover COVID-related expenses.
City Administrator for the Maple City, Lew Steinbrecher, tells WGIL that the Illinois Department of Commerce and Economic Opportunity had extended the deadline for the city to issues these grants until the end of June.
"And we thought, 'well that's it.' It was the end of January and we couldn't use it anymore until they notified us that they were going to give us till the end of June to go out and help other businesses to try to spend down that [$150,000] we still have left in that grant."
Steinbrecher says the city issued about $33,000 to six businesses previously. "Originally it was for $10,000 maximum. Now, they've allowed us to help out businesses up to a maximum of [$15,000.]"
He says that the grants can cover PPE expenses, such as Plexiglass barriers, sanitizer, and masks — but it can also cover some operating expenses. "If they were struggling because their business was shut down and they couldn't pay  — or had difficulty paying — their gas and electric utility bills and also their rent or mortgage payments… we can help reimburse those two kinds of costs as well."
Steinbrecher adds that they could be issuing grants for the maximum but, based on previous averages, he's expecting more along the lines of 15 grants for $10,000 each.