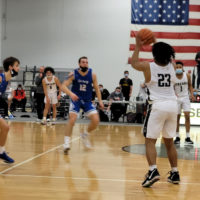 The Galesburg Silver Streaks boys basketball team moved to 4-0 on the season Friday night, outlasting the Quincy Blue Devils at home, 64-50.
The Streaks got off to a really slow start.  They committed seven turnovers in the first quarter, and Quincy built a nine point lead early, looking for its first win of the year, 11-2 and 13-4.  Then, the Streaks started to turn things around.  A 13-0 run from the end of the first quarter into the second quarter, was spurred on by seven Quincy turnovers of their own in the second quarter.
But, Galesburg got into foul trouble.  Dre Egipciaco, Alex Egipciaco, and Eric Price all went to the bench with foul trouble early in the game, and it was a low scoring first half, tied at 23 at halftime.
Then, the Streaks got the offense going.  They started knocking down some three-pointers — three out of four in the third quarter — and also were attacking the basket, hitting free-throws, and were much more fluid on offense, pulling away for the 64-50 final.  They outscored Quincy by 5 in the third quarter, and by nine in the fourth quarter.
Price led the Streaks in scoring with 17, including three out of four three-pointers in the second half.  Dre Egipciaco was our Dave's Autobody Crunch Time Player of the Game.  He finished with ten in the second half, 16 for the game, and knocked down seven straight free throws at one point, to help the Streaks build that lead.  His defense was also a strong aspect of the Streaks second half.  Demarco Harden finished in double figures with 12.  Jeremiah Babers had nine.
The Streaks freshmen were winners over Quincy 50-40.  The Sophomores lost 69-41.
The Silver Streaks next play at United Township Saturday night.  You can hear the varsity game starting at 7:06pm on 93.7 FM and 1400 AM WGIL.
Miss tonight's game?  Listen to the action here!
Tags: